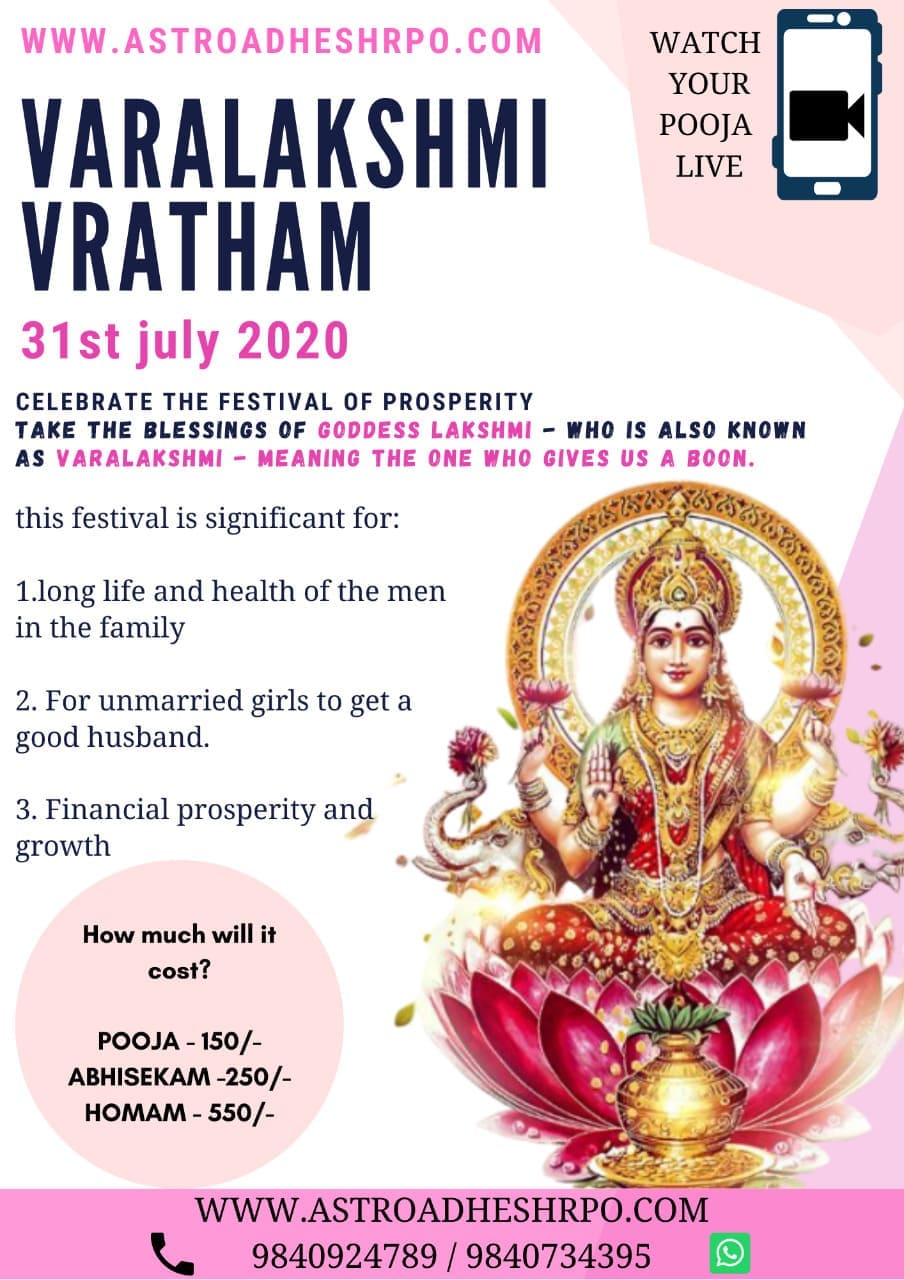 Varalakshmi Pooja, Abhisekam And Homam
Importance:Do Mahalakshmi Homam for abundance and Pay Your debts
Best way To clear your EMI/ LOans/Debts
Do you have difficulties in paying EMI?.
Do you have difficulty in paying Loans
Do you have marriage problems?
Do you want to know the way to clear Venus dosha?
how to reduce the psychiatric issues?
do you have any shri curse and want to know how to clear it.?
Varalakshmi Viratha- the important fectival as it signifies the starting of the festival seasons. Also it indicates the start of rainy season or spring season. Technically it also symbolises the start of dakshinayana. So any ritual we do in the start of this ayana will give maximum impact. So doing mahalskhmi pooja with abhisekam and homam will clear your pancha bhootha. Then level it clears youmental body, emtional body and chakras. This increases your power and strength of attraction. So money manifestion will become easy.
❁ SO WHAT WE DO IN THIS RITUAL-- the ritual will have sankalpa, abhisekam or abhiseka forllowed by archana and finally ashirvad.
❁ WHAT IS SANKALPA. imagine that you want to create an app.the specific features what you want to create will be the sankalpa. the entire pooja is the app. so the sankalpa will have your wish or the features you want to achieve.
❁ RITUALS next is the abhisekam. here we use seven liquids. this abhisekam or the ritualistic bath clears your astral body or inner body. this is similar to having the physical bath. this is followed by archanai and naivedhya offering.
❁ How can you view the pooja
1) with temple shutdown and travels forbidden, the enitre ritual can be viewed through whatsApp or skype
2) The sankalp will be taken with your name, gothram and nakshatra. We perform Pooja, abhisekam and havan daily
3) The Gayatri which is used in the homam will have the name of the karta for whom the ritual is performed.
❁❁FOUR BENEFITS OF DOING VARALAKSHMI VIRATHAM
1. you will get peace of mind
2. Increase in Vasiyam
3. Money flow will be easy.
4. attraction Of good spouse.
5. Long life of men in the family
Before the ritual the energy Body or the aura is broken and there will be leaks in the energy. this makes us feel tired and prone to infections in the physical level. When the ritual is performed there is huge downpour of energy. the aura or the energy body becomes golden and the healing vortex opens. physically we sleep a lot and the body shows signs of recovery.
This is the image of the aura before and after Meditation/ritual